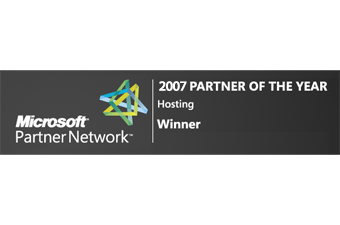 Rackspace was named by Microsoft as the winner of the Advanced Infrastructure Solutions, Hosting Solutions Partner of the Year in the annual Microsoft Certified Partner Awards 2007. The Partner of the Year Award in Advanced Infrastructure Solutions, Hosting Solutions, recognises the top Microsoft partner delivering market-leading, Microsoft-based solutions. Rackspace were also winners of the award in 2005 and 2003.
SAN ANTONIO -October 9, 2003- Rackspace®, the leading provider of managed hosting services, today announced it has been named by Microsoft Corp. as the winner in the annual Microsoft Certified Partner Awards as the Communications Sector - Hosting Solutions Service Provider of the Year. Service Providers around the globe were considered for their application service development platform, communication services, operational capabilities, quality of service delivery, and end customer satisfaction.
According to Pascal Martin, general manager for the Communications and Mobile Solutions Group at Microsoft, "There is a reason Rackspace is the fastest-growing hosting provider on the Microsoft platform. The company has rapidly adopted all the latest Microsoft technologies and solutions, including Windows Server 2003, Internet Information Services 6.0, SQL Server, as well as the Microsoft Solutions for Windows-based Hosting, and has deployed them consistently with their renowned Fanatical Support™. Among our Gold Certified Partners for Hosting and Application Services, Rackspace was selected for its industry leadership and advanced use of our technologies to deliver customers superior managed solutions."  
"Achieving the title of Microsoft Hosting Solutions Service Provider of the Year illustrates Rackspace's total commitment to provide exceptional managed hosting on the Microsoft platform," said Graham Weston, CEO and co-chairman of Rackspace Managed Hosting. "Together, Rackspace and Microsoft collaborate on the best solutions, tools and procedures, including the Solution for Windows-based Hosting version 2.0, needed to deliver the stable hosting environment with Fanatical Support™ that our enterprise customers demand."
Rackspace was honored with the award at Microsoft's Worldwide Partner Conference event in New Orleans, Louisiana on October 9, 2003.
About the Microsoft Gold Certified Partner Program
The Microsoft Gold Certified Partner Program has been created to provide market recognition to companies providing Hosting and Application Services that, through the program's certification process, have demonstrated a consistent, high-quality delivery of specific solutions built on Microsoft technology. This program helps end users and other critical players in the hosting and application services value chain identify organizations that meet a high level of service readiness, competency and capacity for deploying Microsoft technology in a hosted environment.
About Rackspace
Rackspace is a leading provider of managed Web hosting solutions. Founded in 1998, Rackspace offers a wide range of managed services for hosting platforms of all sizes and complexities, including burstable connectivity, 100% uptime SLA, load balancing, security and patching, advanced storage solutions and disaster recovery. Rackspace has received numerous industry awards for its brand of customer service, known as Fanatical Support®, and was awarded the Frost & Sullivan Customer Value Enhancement (CVE) Award in 2002 and 2003. For more information, visit www.rackspace.com, or call 800-961-2888.
Release number: 1158