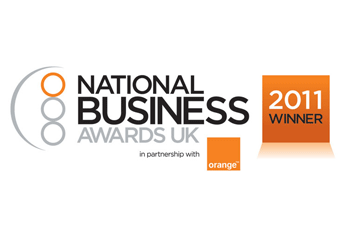 LONDON, November 9, 2011 - Rackspace Hosting (NYSE - RAX), the service leader in cloud computing, today announced that it has been recognised as the 'Employer of the Year' at the 2011 National Business Awards UK, which were held at London's Grosvenor House Hotel on Tuesday 8th November 2011.
The National Business Awards are among the most high-regarded professional accolades in the UK with companies such as BSkyB and Intuit also shortlisted as finalists in the 'Employer of the Year' category. Key to Rackspace's success in this award category was the creation of a winning UK workplace through strong leadership, open communications and employee skills investment. The company's achievements are carried forward by the incredible team of 'Rackers' that fill its headquarters to serve their best every day, creating what the company proudly calls "an awesome experience" for all customers. Regarding the National Business Awards, British Prime Minister David Cameron has stated "These awards, they really do show off the best of British. Category after category, celebrating outstanding achievements. The true pride of Britain and the true wealth creators in our economy." "The National Business Awards are a celebration of the very best in British business," said Rackspace Senior Vice President and UK Managing Director, David Kelly. "It's is fantastic to receive external validation from National Business Awards recognising the work we do throughout the business to create a truly great place to work. Maintaining an award winning culture whilst growing at a rapid pace and driving the cloud industry is something that all Rackers should be proud of."
The National Business Awards in partnership with Orange is an independent business recognition platform with a particular emphasis on excellence, innovation and ethical business. Now in its tenth year, the National Business Awards connects the nations' professionals through its annual awards ceremony; year-round thought leadership and round table events; and is UBM plc's flagship awards programme. "The competition for the award was intense," said Andy Hague, MD at Croner and sponsor of the 'Employer of the Year' award. "Rackspace is fast maturing, but still maintains its youthful spirit while still providing Fanatical Support to customers and delivering an outstanding employer brand. In sponsoring the award we really wanted to find an example of what being an excellent employer is all about. Congratulations go to Rackspace for standing out in such an impressive field. Croner has been proud to sponsor the Employer of the Year award."