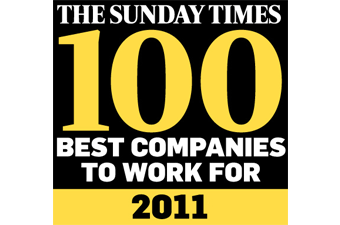 Rackspace has been named a 'best place to work' in the UK for the sixth year running in the Sunday Times 100 Best Companies Awards. As the highest placed "IT services" company and number 33 on the list, the organisation also received the "Innovation in Engagement Practice" award for creating a transparent and engaging place to work.
"I think this award shows that we are prepared to back up our technology proposition with serious investment in our people," said David Kelly, UK MD and Senior Vice President, International at Rackspace. "We know that to nurture great innovation and talent, you have to provide a fresh, open and supportive environment – it is not just a matter of offering financial benefits and incentives. Our recent move to our new UK offices, which we call the European Home of Fanatical Support, is just one example of this – we now have a headquarters fit to house some of the finest technical minds and most passionate personalities in the country."
Rackspace was named the 33rd best place to work in the UK and achieved the highest ranking IT service organisation in the medium-sized company category for the second year running. Rackspace was also accredited with a further two stars denoting its status as an outstanding company to work for.
As part of its entry to the Sunday Times list, Rackspace carried out an internal poll of its workers, which was then submitted as part of the award entry. A total of 83% of employees admitted that they love working for Rackspace and the new office no doubt helps contribute to this. Featuring floors themed around 'the home of Fanatical Support', there is a garage floor (complete with Mini Cooper), retro lounge, library floor and a third-floor garden with trees, grass and porch swings.
Enjoyment and involvement also feature very highly on the company agenda, with 76% of people, surveyed as part of the Sunday Times poll, admitting that they get a buzz working in their team, 84% saying that they have fun and 81% being happy about the fact that colleagues go out of their way to help each other. A score of 81% was registered when employees were asked whether they felt their managers were interested in their team's wellbeing and 79% said they felt that important information was freely shared. Importantly, 81% of Rackers (what Rackspace calls its employees) believe that they can make a difference at Rackspace and 83% say that they can contribute to its success.
"We are very proud of all the progress we have made over the last year and what's truly pleasing is that as the company has grown our Rackers still feel valued in their roles," concluded Kelly. "Our continued success is without a doubt because of our Rackers' tireless dedication to our 'Fanatical Support' service offering and the passion they show every single day."