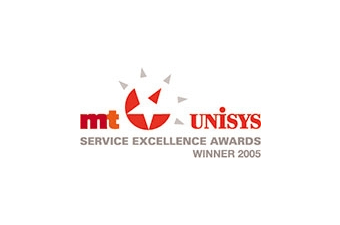 London, 30th September 2005, At the 10th anniversary of the prestigious Unisys/Management Today Service Excellence Awards, held last night at The Landmark Hotel in London, companies were credited for providing outstanding levels of service to enhance customer experience.  Overall winner for the 2005 Service Excellence Award was Rackspace®.
The Unisys/Management Today Service Excellence Awards were designed to encourage and recognise companies and their staff demonstrating outstanding commitment to providing the very best customer service.  To win an award, each organisation is assessed in-depth on its ability to win, satisfy and retain customers.  Rigorous criteria used by the judges include customer intelligence, operational effectiveness, engaging people, leadership and values, and organisation agility.  The expert panel of judges consisted of experienced Unisys consultants and representatives from the Cranfield School of Management.
Winners across all the business categories in the Unisys/Management Today 2005 Service Excellence Awards are:
Business to Business: Rackspace Ltd
Retail and Consumer: RAC, Roadside
Financial Services: Prudential UK, Customer Services
Manufacturing/Engineering: Cougar Automation Limited
Public Services: Bromford Housing Group
Learning Organisation: West Bromwich BS
Highly Commended: Novotel London West
Alwyn Welch, Managing Director, Unisys UK said: "In its tenth anniversary, the Unisys/Management Today Service Excellence Awards continues to promote excellence, best practice and innovation in customer service and highlight its importance in today's business climate. Against the backdrop of technological innovation and automation, every successful company/brand shares the same common success of placing the customer's needs and thus trust at the heart of their business.  It is those organisations who are taking a proactive stance not just in raising standards but in seeking to change the culture of the industry itself that the awards commend."
All organisations that enter the Unisys/Management Today 2005 Service Excellence Awards benefit from the scheme, as every entrant receives detailed assessment and expert diagnosis valued at around £10,000 to help them identify their strengths and weaknesses and provide benchmarks to improve performance.